MORNING PRAYER
We begin EVERY DAY with our school morning prayer

and remember the Apprenticeship Exhibition on 24th and 25th November www.skillslondon.co.uk at ExCel
Following the conclusion of the recent election and a series of interviews on Wednesday, I am pleased to announce the committee for the next academic year.
The committee will officially take up their positions in September, but will be doing some work towards next year in the coming weeks, including their first full committee meeting next Wednesday after school.
Thanks once again to all students that applied and took part in the selection process and thanks to all students and staff for their support.
All roles have now been allocated and the Student Executive Committee for the 2015-16 academic year will be as follows:
President – Charley McInerney
Vice Presidents – Carrie Gandemer &  Rebecca Reilly
CLOTS and Charity Officer (Associate Senior Committee Member) – Hannah Roberts
Student Voice Rep (Al, Be, Ca, Cl) – Felise Martin
Student Voice Rep (Fr, Mo, Th, Wa) – Rebecca Miranda
Arts Representative – Harriet St. Ledger
Community and Environment Officer – Amy Gardner
Media and Communications Officer – Ryan Chamberlain
Sports and Activities Officer – Calum Goodchild
CLOTS and Charity Assistants (Associate Committee Members) – Hope Williams & Isabella Fuller
HEADS OF HOUSE

The following students have been duly elected as Heads of House for their respective form groups and will work closely with the two Student Voice Representative Members on the Student Executive Committee:
Alban: Matthew Cranny & Anna Ferrara
Bede: Imogen Moore & Abigail Wildman
Campion: Eleanor Barton & Harry McCarthy
Clare: Elle Brooker & Sean Smith
Frances: Chennel Fernandes-Todd & Olivia Spencer
More: Michael Evans & Niamh McGrath
Theresa: Declan O'Reilly & Nicola Rogers
Ward: Megan Higgins & Molly O'Regan
Form captains for each of the forms in next year's 7, 8, 9 and 10 will be elected in September.
Congratulations to all elected members and a huge thank you to all that applied to be part of the Committee for the upcoming academic year.
Have a great summer!
On the day of the General Election pupils in years 7 to 11 had the opportunity to experience voting in an election. The sixth form common room became the polling station and the sixth formers performed the duties of electoral officials and returning officers. This was the culmination of two weeks of discussions and analysis in tutor time and Citizenship & PSHEE lessons. Pupils were challenged to consider a range of issues that election campaigning raises such as the role of the media, the use of statistics, the question of style over substance and the importance of considering what is best for the common good. Opportunities will be made for pupils to reflect on the results of the actual General Election and how they can continue they own understanding of our democratic system.
This slideshow requires JavaScript.
There are so many ways that our current students and future students can benefit from the stories and experiences of our past students. These can be about job seeking, university experience, travel, sharing careers information, mentoring, supporting, the list is huge. Please sign up to our Future First alumni database. Three clicks. Starting with…….. www.joa.herts.sch.uk  – "About St Joan's" – Alumni
or go direct………..   http://www.joa.herts.sch.uk/1528/about-st-joan-s/alumni
0r use our  QR code………..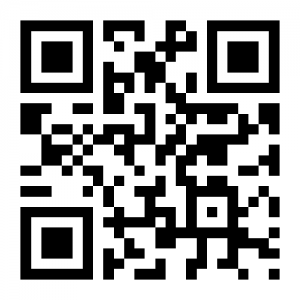 Or ring David Ritchie (m) 07748 761393 to chat about it!
Back in June, we revamped our Departmental Blog and it has become increasingly popular with students both at St Joan's and around the world (www.joageog.wordpress.com) . Deciding to propel ourselves even further into the 21st century, we  now have a Twitter Account! Please feel free to Follow us to keep up-to-date with the latest geographical happenings both in the department here at St Joan's and over the Globe! Find us @JoaGeog
Mr Kelly