MORNING PRAYER
We begin EVERY DAY with our school morning prayer

CLICK HERE FOR MORNING PRAYER DURING ADVENT
Below are a range of resources to use in TCT with form groups.
The resources have been divided into the categories: WATCH & READ.
WATCH contains short video reflections. READ has similar resources but in a format to be read by a member of the class.
---
WATCH
Reflections – Thoughts on Scripture and the Saints
Prayers – Prayers from Catholic Tradition
---
READ
---
OTHER RESOURCES
Meditation | The Examen
At the end of the day, a week, or a half term it is recommended to do an Examen. This is a prayerful reflection of the day, that helps us to grow in gratefulness and learn from the moments that challenge us. You can listen to a version of an Examen Prayer below:
Examen prayers are usually prayed at the end of the day. At other times, pupils should be guided to think back over the day before, the past week or another short period of time.
---
Other Prayers
Recommendations from other staff*
Praying Each Day – Daily Catholic prayers from De La Salle Brothers.
*Please note that if using other resources or a more spontaneous approach to prayer, the School Resource should still be read and a whole-school focus incorporated into the prayer time regularly.
Why we do what we do! Prayer & Worship Policy
Thank you for your support of the Catholic Life of the School
As part of our new Udayan Connect Project, each form class will be connected to a child at Udayan. During a pupil's time at JOA, they will connect with these children through correspondence and support. We hope that this project will help our own children grow in gratitude for the lives that they have (their material wealth, and also the freedom to live with family) as well as raise much needed funds to enable Udayan continue its work.
Follow the links below to discover more about these children and the Udayan Connect Project:
For more information about Udayan's mission, JOA's relationship and to financially support these children please visit joa-udayan.co.uk/sponsor.
Red is the Christian colour of martyrdom. Christians are the most persecuted faith group in today's world and #RedWednesday will honour all Christians who suffer and die for their faithfulness to Christ's message of peace and love. #RedWednesday will shine a light on Christian persecution but also highlight the injustices perpetrated against other faith groups.
JOA will be holding #RedWednesday on Wednesday 22nd November to support the work of Aid to the Church in Need (ACN). ACN are an organisation who work for the rights of those persecuted for their faith around the world.
On Wednesday 22nd November, we are asking that pupils donate 50p (via ParentPay) to support the work of ACN, whilst also wearing an item of red clothing in solidarity with those affected by religious persecution. There will also be student led lessons and reflections taking place in RE lessons and in the Chapel.
Don't have a Christmas Jumper but fancy the chance to win a prize and raise money for Udayan?
What about customising a jumper from home?
Take a your inspiration from staff winner Miss Fouhy from 2015!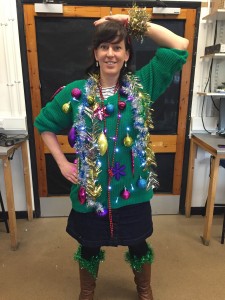 You may have noticed some Saints amongst us on the last day of term.
These brave pupils (and one brave tutor) made a special effort to help us remember the true-meaning of All Hallows Eve – the dressing up part anyway.
Please see the pictures below and vote for your favourite by clicking HERE.
All entries win a Year of Mercy Lunch Pass, valid until the 20th November.
The winning entries win a share of a £50 jackpot!!!
Voting closes on Wednesday evening and the winner will be announced in Thursday's Year 7 Assembly.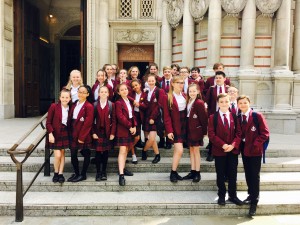 This year as we are celebrating the Jubilee of Mercy, fifty students have committed to being Apostles of Mercy. On Monday the 9th and 16th of May, several of these Apostles of Mercy from year 7, 8 and 9 went on a pilgrimage to Westminster Cathedral. The purpose for our pilgrimage was to to give them the opportunity to follow the 'Way of Mercy', starting at the Holy Door.
"On Monday the 16th of May we went on a pilgrimage to Westminster Cathedral.  Before the pilgrimage, we prepared for our journey by going to confession at school and going to Mass at our local parish 'Our Lady Help of Christians'.  Fr Mark said Mass and asked us to pray for him. At the Cathedral we followed the 'Way of Mercy', starting at the Holy Door and then following the 'Way of Mercy' route, reflecting on different aspects of mercy at various stations around the Cathedral.  At these stations we read some information about the different acts of mercy and prayed. By going through the Holy Door, following the 'Way of Mercy', confessing our sins and attending Mass, we received an indulgence." (Mary Wheatley and Zoe Sotto)
Our Apostles of Mercy were encouraged to hope as Pope Francis expressed that we may 'experience the joy of encountering that grace which transforms all things.'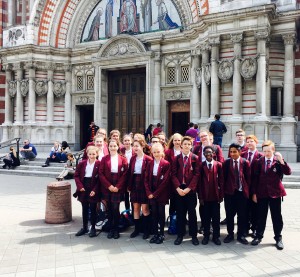 Thank you so much for all your generosity. Many of our school families are themselves under considerable financial pressure, especially at this time of year, so it really is profound generosity we see in the pictures below of our very-own Santa-Sleigh (mini-bus).
For some families, the gifts donated by JOA are the only ones that they will receive this Christmas.
Well done and sincere thanks to everyone who contributed!
Join Miss Godwin and Mr Woollatt who are both aiming for the Best Staff Christmas Jumper" prize.    
There will also be awards for "Best Student Christmas Jumper" and "Most Christmassy Form".
Haven't got a Christmas Jumper?  Not a problem.  Customise your own.
Really too cool for school/ still don't want to wear the jumper?  Donate your £1 anyway…
Every single pound collected will go directly to the children of Udayan.