Click here to look at some addition puzzles and activities to keep your mathematical brain working.
Watch this space for the new Puzzle Club coming soon to a classroom near you…..

Welcome to Maths Week 2020 9th – 13th March
Look out for a week full of mathematical fun and puzzles…
Ask you tutor for more details or find more information on our website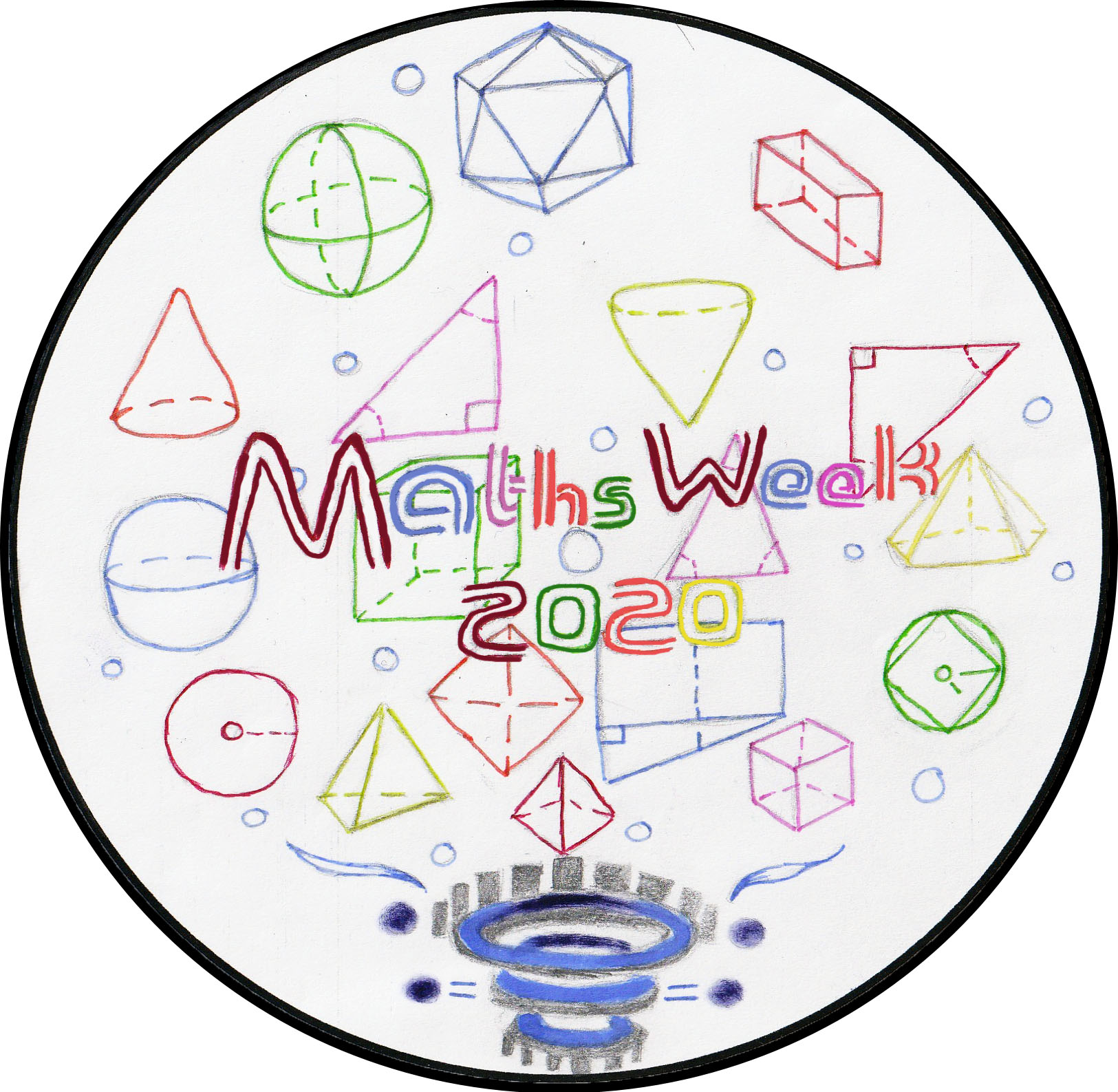 https://www.applytracking.com/tp/rj6.s3tUn.J_K
Business Insight Week
The Business Insight Week is a one week paid experience that will put you through your paces. You'll get guidance and support every step of the way to explore the work we do and the opportunities we can offer you. We'll top it all off by giving you the opportunity to share your experiences with other students on the programme and celebrate a fantastic week.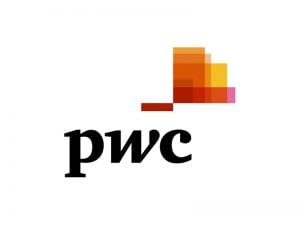 What you need to get in
Currently in year 12 and studying for AS levels or equivalent.
Interested in taking your first steps towards a career in business.
Available for a week during your summer holidays between years 12 and 13 from either 6th August or 20th August
On track to achieve a minimum of 96 UCAS points on the new tariff (three grade C's or above) from your A levels. This should be from your top two subjects excluding General Studies.
You'll also need to have achieved a minimum of 5 GCSE's at grade C or above including GCSE Maths and English Language or equivalent. Please ensure you enter your predicted AS/A Level grades on your application form.
http://www.careersschools.pwc.co.uk/ShowJob/Id/877996/Business-Insight-Week,-Uxbridge,-Summer-2018/
Year 7 Brain Buster Cup Round 1 in S22 at Lunchtime today.
Check out the website for more information and activities…
Today's raffle questions are: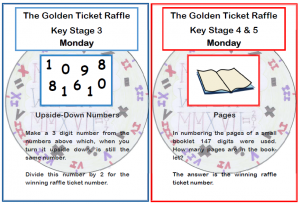 Congratulations to 7 More who won the coveted Brainbuster Cup trophy.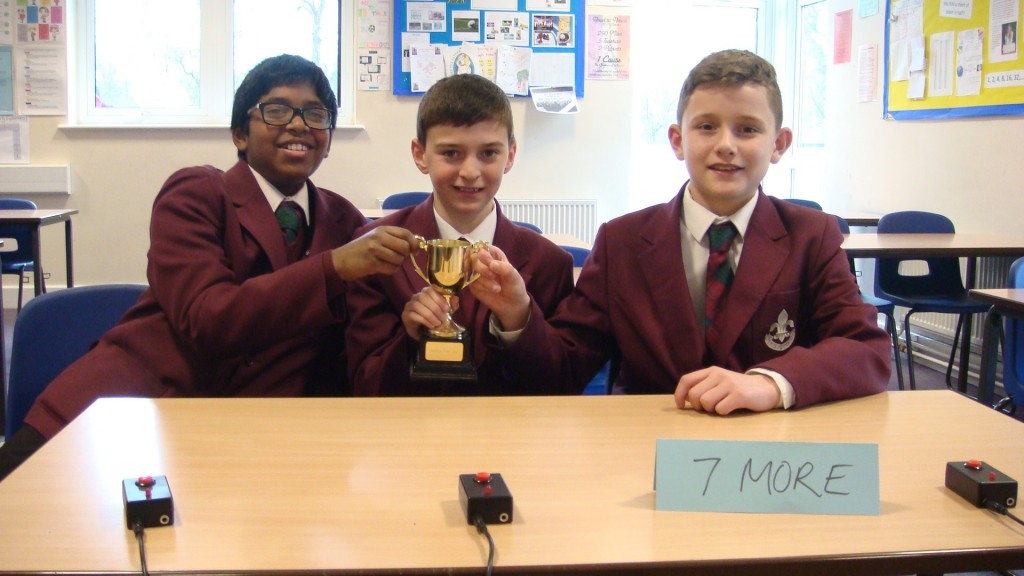 They managed to keep their nerve in front of a capacity crowd to narrowly defeat 7 Alban after a thrilling buzzer round. Well done to everyone who competed in the competition and thank you to all the maths fans who came to watch and cheer.
The 'Puzzle of the Day' competition was won by Niall Bakry in 7 Frances. He correctly answered all 5 puzzles (solutions given here) and won a well deserved iTunes voucher.
The staff competition was won by a delighted Miss Marshall who walked away with the priceless trophy. Runners-up were Mrs Link and Mr Clarke who also got all the answers correct. Hats off to you all!
The waiting is finally over…
…Maths Week is here!
'The Magic of Maths' shows by Andrew Jeffrey proved a great hit with the students…
This slideshow requires JavaScript.
Click here to read reviews and quotes from pupils.
Congratulations to Stacey Carroll in 8 Campion who won the 'Puzzle of the Day' competition and to Mrs Perotti who won the staff competition.
Hope you all enjoyed Maths Week, see you next year!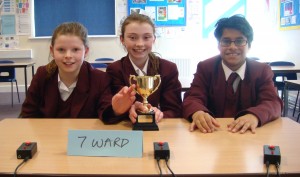 Congratulations to 7 Ward who won the 2015 Brainbuster Cup after a nail-biting final.
The capacity crowd were whipped up into a mathematical frenzy as they narrowly beat Campion 17 -15. Well done 7 Ward!
The draw for the Puzzle of the Day Competition will take place at break time on Friday 6/3 under the big umbrella. Out of 214 entries, 70 were correct and will be entered into the draw.
Solutions will be posted at 6am on Friday morning – click here to find out if your answers were correct.
Good luck!
Students experienced a different side of Maths on 28th January when Fran from the Maths Roadshow came and taught mathematical problem solving skills with Hands-on activities.
Have a go yourself at http://nrich.maths.org/roadshow









Which form won the Brainbuster Cup?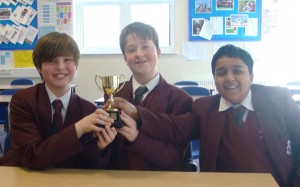 What was the answer to Wednesday's puzzle?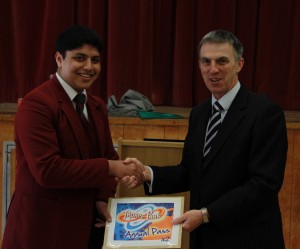 Why is Jacques wearing a World War II uniform?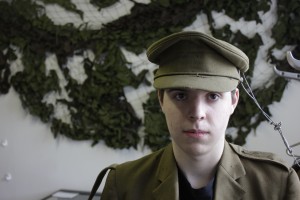 For answers to all these questions (and much more!), visit the Maths Week Blog.