Congratulations to all our pupils on a fantastic set of examinations results this year.
The overall pass rate at GCSE has risen for the fourth consecutive year to our best ever figure of 76% for pupils gaining 5 or more A*C grades including English and maths.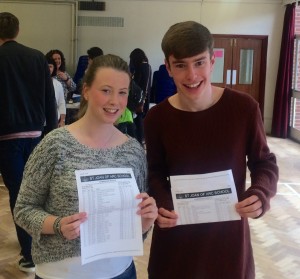 The average points score has also risen significantly from 323 in 2014 to 382 this year and is a reflection of the hard work and dedication from our pupils and staff throughout KS4.
Pass rates for English (88% A*C) and Maths (88% A*C) have also seen a significant rise whilst the following students are a sample of the many who have gained excellent individual results, well done to everyone.
Callum Watson (9A*, 2As)
Abinmon Jain (8A*, 1A)
Aisling O'Connell (7A*, 4As)
Adam O'Malley (7A*, 3As)
Ryan Jayesinghe (7A*, 2As)
Rachel Murray-O'Shea (6A*, 3As)
Rebecca Smith (6A*, 3As)
Alice Goad (5A*, 5As)
Niamh Costello (5A*, 5As)
Tara Breslin (5A*, 5As)
Sarah Lawrence (5A*, 5As)
Edward maling (5A*, 4As)
Sarah Meehan (5A*, 4As)