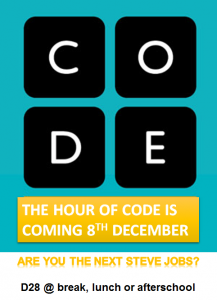 So you have seen the posters, now it's time to sign up and try an Hour of Code.
What is it?  It is a worldwide initiative to encourage everyone to have a go at coding.
Last year over 10 million people tried it.
Join us in D2.8 at break time, lunch time and after school.
Click on the link below and sign up using your school email address to register your hour(s) to our event.
There are tutorials based on Frozen, Angry Birds,  or Flappy Birds.
Let's see if we can reach 1000 hours over the week.